| | |
| --- | --- |
| The Televangelist Bingo cards are in PDF format. You will need Adobe Acrobat Reader, which is available free at Adobe's Web site. | |

You've discovered the newest game to hit the nation, Televangelist Bingo! The concept is simple. Turn your television dial to any televangelist — the wackier, the better — and clue in on the words and phrases characteristic of those eccentric preachers of charity and donation. Then, mark off the words that appear on your card(s). The first to mark off a straight line wins! Amen!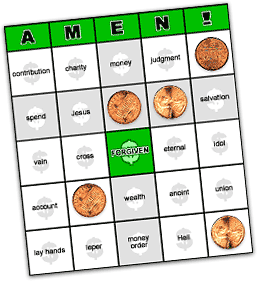 In order to play Televangelist Bingo, all you need to do is download the cards and print them out. No tithing necessary!
Each set contains 2 cards, enough for 2 players. Download as many sets as you need or grab the full set of 20 cards in a compressed file.
Complete Set of 20 Cards:

Home | Download Bingo Cards | Rules and Commandments | The Big Waste of Space Library
© Copyright 1996-2021 Wesley Treat. All rights reserved.
Want to contact me or find out more about the site? Get the Skinny!